Affordable Veneers Tijuana: Get Your Dream Smile Today!
If you are looking for an affordable and effective solution to improve your smile, veneers in Tijuana might be the right choice for you from all the cosmetic dentistry procedures.
Veneers are thin shells of porcelain or composite resin that are custom-made to fit over the front surface of your teeth, improving their appearance and correcting minor dental imperfections.
Tijuana is a leading destination for veneers, offering high-quality and affordable options that can transform your smile in just a few appointments. In this article, we will explore the benefits of veneers in Tijuana, the procedure, and what to expect during the treatment.
What are Dental veneers?
Dental veneers are thin layers of material that are adhered to the surface of teeth to change their color, shape, size, or length. Veneers are made from either porcelain or resin material and can be used to correct a wide range of cosmetic dental problems such as stained, chipped, misshapen, or slightly crooked teeth.
Dental veneers are not suitable for everyone – the best way to find out if veneers are right for you is to schedule a consultation with us. During your consultation, our dentist will examine your teeth and jawbone structure, and discuss your treatment options with you. If you decide to proceed with treatment, our dentist will take impressions of your teeth which will be used to create your custom-made veneers.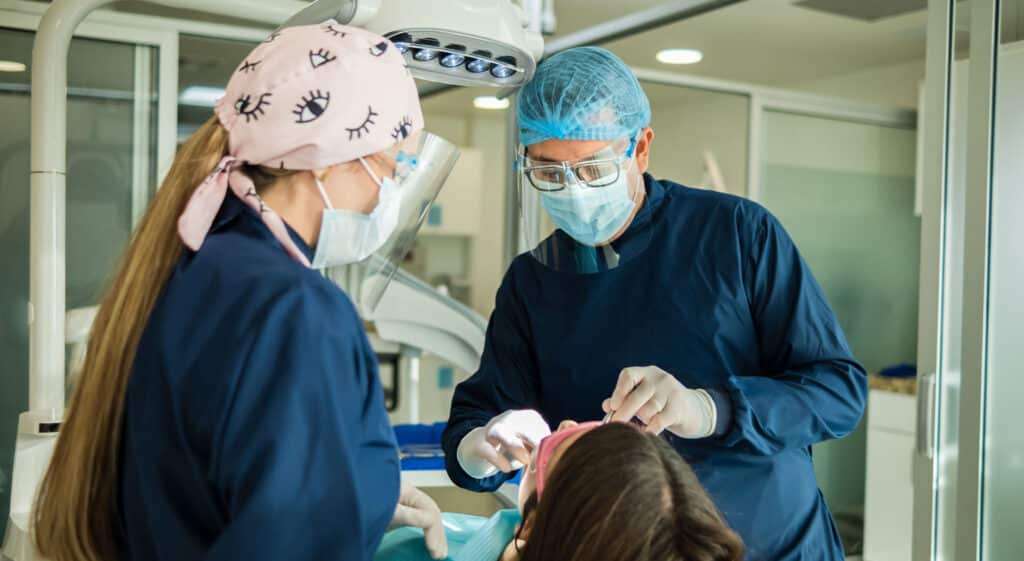 How long do dental veneers last?
Despite their durability, you can't expect your veneers to last forever. The typical lifespan of a veneer is between 10 and 15 years. With proper care and maintenance, they could last even longer.
How much do dental veneers in Tijuana cost?
The average cost of veneers is between $500 and $1,500 per tooth in the United States, although this price can vary depending on the teeth involved and the type of veneer used.
The cost of dental veneers can vary depending on several factors such as the type of veneer (porcelain vs composite), and the number of veneers you need. In general, expect to pay anywhere from $300 – $650 per tooth for veneers in Tijuana while on dental project our dental veneers can start from $200.
If you're considering getting dental veneers, you must consult us to discuss whether they're right for you.
Process of getting dental veneers in Tijuana
The procedure for placing veneers usually takes two visits to the dentist once already been evaluated and know you that you are candidate. The first visit involves preparing the teeth and taking impressions or molds that will be used to create your custom veneers. This process usually takes one to two weeks.
During the second visit, the dentist will place the veneers on the teeth and make any necessary adjustments. Once you and your dentist are happy with the fit, shape, and color of your veneers, they will be bonded to your teeth using a special adhesive.
Dental veneers are not removable and can last for several years with proper care. However, they can become stained or chipped over time just like natural teeth.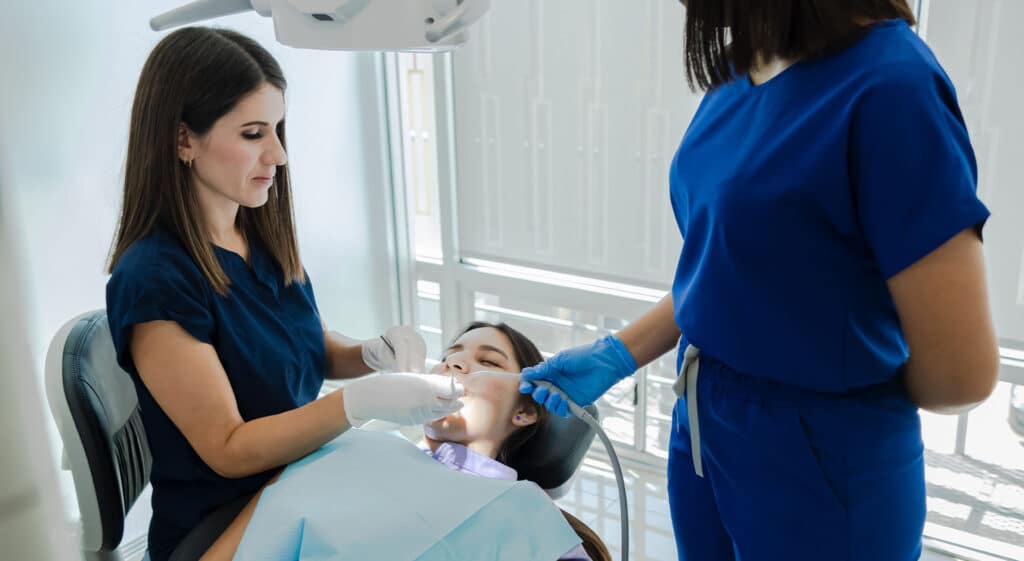 What are the benefits of getting your dental veneers in Tijuana with us?
If you are considering dental veneers, Dental Project in Tijuana is an excellent choice for your treatment.
There are many benefits to choosing dental veneers in Dental Project, including:
Cost – Dental veneers are much less expensive than in the United States. You can expect to pay 50-70% less for treatment in Tijuana with Dental Project than in the US.
Experience – our cosmetic dentists in Tijuana have years of experience providing veneer treatments. You can be confident that you will receive high-quality care and achieve beautiful results.
Convenience – Tijuana is just a short drive from San Diego, making it easy and convenient to access quality dental care. Also, we are located 5 minutes from the border and we offer a driver that can pick you up at the border.
Dental veneers – what should you expect before getting them?
The procedure to place veneers generally takes two visits to the dentist. During the first visit, the tooth (or teeth) will be prepared for the veneer and an impression will be made. This impression will be sent to a dental laboratory where your custom veneers will be made. The second visit will be to place the veneers on your teeth.
You should expect some discomfort during and after the procedure, but this can usually be controlled with over-the-counter pain medication. It is also normal for your gums to be sore for a few days after the procedure. You may also experience some sensitivity to hot and cold temperatures, but this should go away within a few days.
Dental veneers – are they right for you?
If you have ever wondered if those perfect white teeth that seem to glow are real or fake, chances are they may be dental veneers. Veneers are becoming more popular every year as Hollywood celebrities, business moguls and everyday people alike choose to improve their smiles, always looking for a natural and esthetic result.
Why choose to get Dental veneers in Tijuana, and why are the best option to improve your smile and self-confidence
In conclusion, getting dental veneers in Tijuana is an innovative and affordable choice for those looking to improve their smile and boost their self-confidence. With experienced and skilled dentists, modern equipment, and high-quality materials, you can trust that your smile will be in good hands.
Additionally, Tijuana offers affordable prices, making it an ideal location for those seeking a budget-friendly solution. Whether you are dealing with discoloration, chipped or misaligned teeth, or other dental imperfections, veneers in Tijuana can give you the beautiful and natural-looking smile you deserve.
So don't hesitate to schedule a consultation with a Tijuana dentist to discover how veneers can transform your smile and life.