Veneers in Tijuana guide 2022
Do you feel bad and dissatisfied with your smile? Perhaps you have felt this way because your teeth are misaligned, stained, or need some repair. Well, we have the perfect solution for you! Dental veneers in Tijuana are ideal for quickly improving the appearance of your teeth.
What are porcelain veneers?
Dental veneers are a protective shield for the damaged tooth, covering the entire front surface of the teeth to improve their aesthetics. Dental veneers can transform all teeth' color, shape, size, and length.
They are pretty thin and custom-created to ensure a perfect fit for a person's smile. Thanks to this method of cosmetic dentistry, you will be able to regain confidence in your smile, having a perfect white smile with which you will feel happy and at ease.
What problems do dental veneers solve?
When a person does not feel comfortable with their teeth, either because they have yellow, misaligned teeth or because they have suffered a fracture due to a blow, dental veneers can repair these problems and restore the person's confidence.
Dental veneers are a great option when it comes to:
Dental veneers are long lasting, resistant to breakage, chipping, wear, and staining to solve these problems.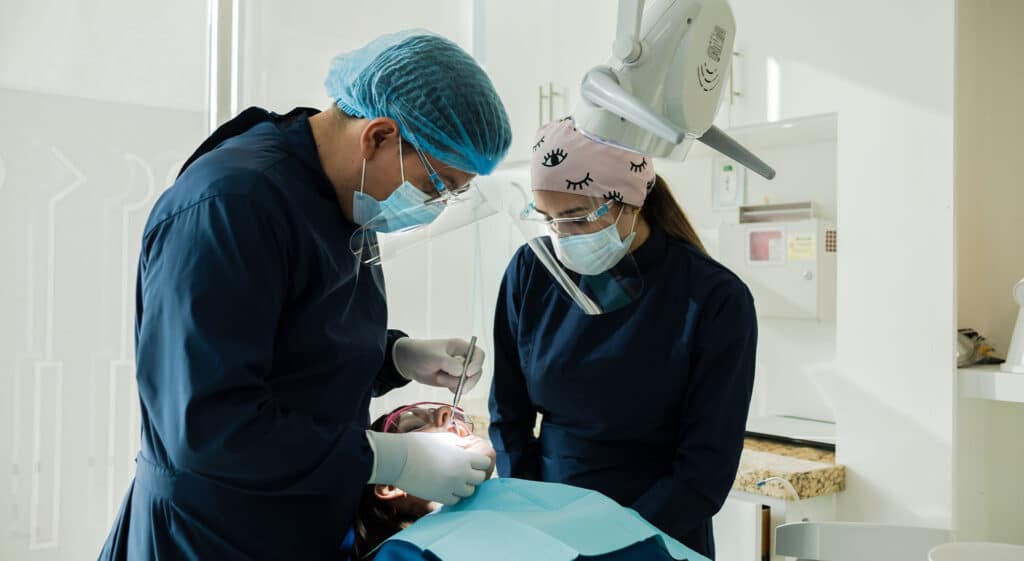 How should a tooth be prepared to place a veneer in Tijuana?
The patient's teeth must be prepared for treatment with dental veneers, and this is done to leave a space free to install the veneers so that the material placed does not bulge the tooth in-depth or make it stand out from the other pieces of the teeth.
To create the veneer, the dentist must first make an exact mold of your teeth and decide on the shade of color that best matches the rest of the teeth to achieve the most natural appearance possible. While the custom veneers are being manufactured, our dentists will place temporary veneers while the custom veneers are ready.
When your veneers are ready, you'll return to the office to have them placed, adjusted, and bonded to the teeth. Dental veneers will help you quickly improve your teeth and feel better about them, eliminating fears and complexes.
What is the procedure to place a dental veneer in Tijuana?
The process of placing porcelain veneers begins in the office, where the dentist will make a mold of your teeth and help you decide on the color that best matches the rest of your teeth for a very natural appearance. Then, the information collected is sent to the laboratory, where your dental veneers are custom-made.
While your custom dental veneers are being made, your dentist will give you temporary ones while the others are ready. Then, when your custom veneers are ready, you'll return to your dentist for installation, immediately improving your teeth and making you feel much more confident about your smile.
Benefits of dental veneers in Tijuana
The dental veneers that we offer have various benefits for you that will help you regain confidence in your teeth and smile, eliminating that fear of smiling that you have had for a long time. Among the main benefits are:
Very high dental esthetics and resistance to staining: The aesthetic result of porcelain veneers is more excellent than composite veneers. In addition, ceramic has a natural and long-term color since ceramic veneers do not stain over time.
Suitable for multiple defects: In this case, porcelain veneers can be used to improve the alignment of the teeth, improve the color, match the teeth' size, and improve worn or fractured teeth.
Helps strengthen teeth: Porcelain veneers help maintain fractured teeth and restore their normal function. In addition, they can be used to regain dentition worn to bruxism.
Quick treatment and little recovery time: Porcelain veneers are fixed to the teeth and their recovery time is almost immediate.
Increases self-esteem: Having a beautiful smile gives security and confidence to people who will not hesitate to show it to the world.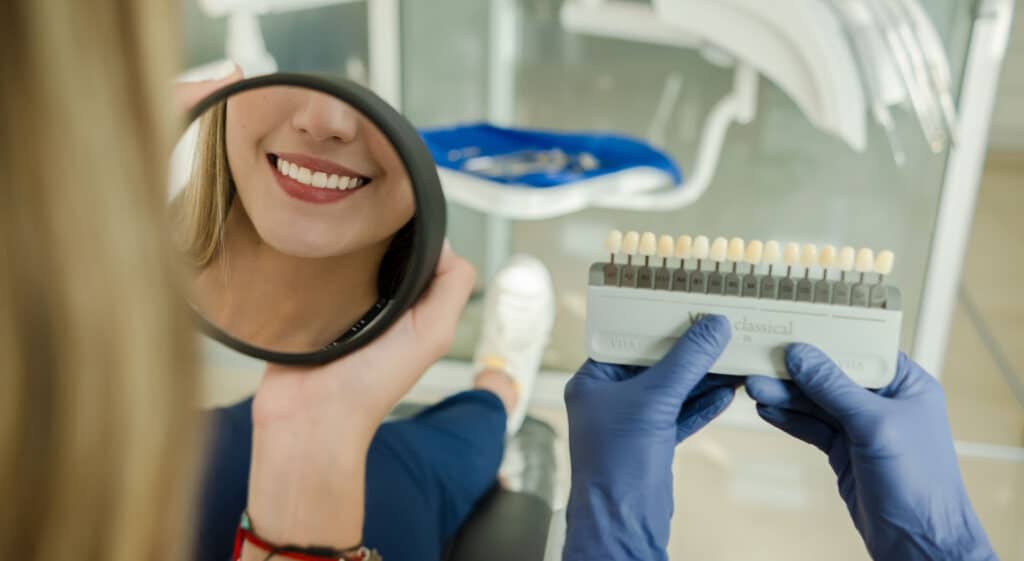 How much do dental veneers in Tijuana cost?
Porcelain dental veneers in Tijuana have a much lower price than those in the United States, being one of the reasons why thousands of Americans cross the border to Tijuana in search of professional results at much lower prices.
Dental veneers can be around $300 depending on what the patient requests, while the same veneers done within the United States can cost between $800 and $3,000 per tooth, which suggests a significant price difference. So, we invite you to our dental clinic to make your porcelain veneers!
What are you waiting for to show off a perfect smile?
With our porcelain veneers, you can regain confidence in your smile with perfect and aligned teeth that will help you feel better about yourself, thanks to a beautiful smile with shiny white teeth.